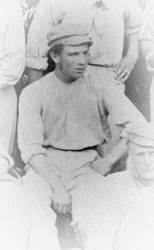 Henry Charlwood (1846-1888)
Henry Charlwood remains the only regular Henfield player to have played test cricket for England. Not only that, but the two tests in which he played were the first ever offical test matches, played between England (James Lillywhite's XI) and Australia at the Melbourne Cricket Ground in March 1877.
1st Test Scorecard
2nd Test Scorecard
Charlwood made scores of 36 and 13 in the first test won by Australia, and 14 and 0 in the second won by England
Test players now wear a number on shirt and cap to denote the sequence of players since those first tests. Alastair Cook, for example, is cap number 630; Henry Charlwood is no.2 (the first 11 test cricketers were listed alphabetically).
Henry Charlwood is described by cricinfo.com as "as an attacking top-order batsman, occasional lob bowler and specialist cover fielder." He played 32 innings for Henfield, and possibly more games, batting at an average of 30.15, and still holds the club record 3rd wicket partnership of 211 with R.Fillery in 1865.
After he left Sussex…
This article is reproduced by kind permission of the Chesterfield and District Local History Society. Our sincere thanks to the author Roger Hartley for allowing us to place it on our website
Charlwood in Chesterfield – Cherchez La Femme
During my research into football and cricket in North Derbyshire in the 1870's and 1880's, centred on the exploits of Spital Football Club and W.G Grace's touring team, the United South, I kept coming across the name of Sussex and England cricketer, Henry Charlwood. This was to be expected, as he was a stalwart of Grace's eleven, but I discovered that he was also appearing for Chesterfield Cricket Club in the 1870's, that he umpired football matches for Spital and that he was referred to in a letter in the Derbyshire Times as a 'townsman' of Chesterfield'. I could not find any references as to why this professional cricketer, the mainstay of the Sussex side, was living in Chesterfield but I suspected it could have been as much due to 'l'amour' as to sport. On-line census and civil registration provision has helped to prove my supposition correct and several cricket web-sites have provided a little more detail on Henry Charlwood, who unfortunately died before the informative Wisden obituaries were established in 1892.
Henry Rupert James Charlwood was born in Horsham, Sussex, on December 19th 1846. In 1851 he was living in South Street, Horsham, the next to youngest of four sons and two daughters of Stephen Charlwood, a journeyman shoemaker, and the latter's wife Eleanor. By 1861 there were two more daughters and another son and Henry was by now a 'monitor', age 14, a pupil who had stayed on at school to assist the teaching staff, perhaps even doing some teaching himself. His elder brothers were shoemakers and tailors so Henry was obviously a more intellectual type but he was also making his mark on the cricket field. Playing for Henfield Cricket Club he made some impressive scores, including one of 159, and he first appeared for Sussex when he was only 18, in 1865. He scored 30 and 12 in a drawn match against Surrey. He obviously came to the attention of the great man himself, W.G. Grace, as he played for the latter's United South XI a year later and he was a member of Grace's touring team to North America in 1868. By now well established in the game he is to be found in the 1871 census as a 'professional cricketer', lodging at the Queen's Head in Borough High Street, Southwark, obviously a good base for the many matches played in London at the Lord's, Oval and Prince's cricket grounds.
Described as 'an attacking top-order batsman, occasional lob bowler and specialist cover fielder' Charlwood played 127 matches for Sussex from 1865 to 1882, 197 first class matches in total, scoring 7017 runs at an average of 21.19. He only took four first class wickets but pouched 89 catches. His other first class matches included many for the 'Players', the professional team which opposed the amateur 'Gentlemen' several times a year, for the South against the North, and two Test matches. Henry Charlwood played in the first ever Test Match, in Melbourne in March 1877, scoring 36 and 13 in the match won by Australia, then 14 and 0 in the Second Test, won by England. In the recently devised numbering sequence for English Test players (look for these on current players' shirts and caps), Charlwood is number two and the latest player, Jon Lewis (3rd Test v Sri Lanka, June 2006) is number 634.
Henry Charlwood played in three of the four United South XI's matches in Derbyshire in the 1870's, with no distinction. As well as giving spectators in many parts of the kingdom the chance to see the famous cricketers of the day these touring team matches were a boost to the income of professional players. Charlwood scored only 8 in a total of only 69 for the Eleven against XXII of Chesterfield and District at the Recreation Ground, Saltergate, in late September 1871. The rain-affected game was a well-matched draw. In a rare and comprehensive defeat for the 'Doctor's' XI against XVI of Derbyshire, in August 1874 at Derby, he contributed only 6 and 1, and only 2 in a match in September 1874 when the United South crushed XXII of Glossop and District by an innings.
It is possible to suggest that it was during the match between Grace's team and the Chesterfield 22, in 1871, that Charlwood first met his future wife, Ann Oliver. There is no evidence that he visited the town before this date. The 1881 census gives his wife Ann's birthplace as Chesterfield, the Free BMD website links Henry Charlwood by marriage to Ann Oliver and in turn we find that she was born in Chesterfield in the December qtr. 1848. A curiosity about their marriage is that it was in Gateshead in November 1872; why there is not at all obvious. The certificate gives no clues. The wedding took place in the Zion chapel at Low Felling, in Heworth, Gateshead. Henry was a bachelor of 25 and 'A Professional Cricketer' and Ann a spinster, aged 23. Henry elevated his father to 'Boot and Shoe Manufacturer' rather than just a shoemaker.
Ann Oliver is listed in the 1851 census living in Saltergate, Chesterfield, in the household of Jane Oliver, shopkeeper, who was born in Go(a)thland, Yorkshire. Ann was the second of 4 daughters and a son, all scholars at this time. Jane is listed as married, not widowed, but there is no sign of Mr. Oliver. In fact we know from Henry and Ann's marriage certificate that he was a railway contractor, so he could have been away on business. A William Oliver died in Chesterfield in 1853, which could be our man; he was certainly noted as deceased on Ann's marriage certificate. In 1861 Ann, now 12, was in a boarding school in Church Lane, Chesterfield, with 9 other pupils, including her sister Martha. Miss Mary Short, 40, Boarding School Mistress, was the head of household, and also living in were a cook, housemaid and governess, a generous staffing ratio. Unfortunately Ann cannot be found in the 1871 census, perhaps the critical one just before she met Henry Charlwood.
All family history researchers come up against this problem, often due to wrong transcription onto the computer database rather than a person being missed out of the census. I knew the Charlwoods were living in Scarborough in 1881 but again I could not find them until a cricket website revealed that the surname had been transcribed as 'Bleaswood'. Henry became involved in the licensed trade, as did Ann's second husband, so it is possible that his wife had a background in this area. Ann could have worked in a hotel in Chesterfield, perhaps the one used by the United South professionals in the 1871 match. 'Gentlemen' W.G. and Fred Grace would usually have stayed in a separate hotel, although as my History Paper explains 'amateur' W.G. made an extremely good living from the gate receipts of such matches.
The 1881 census shows that Henry, 33, and Ann, 32, had a daughter, Gertrude, age 7, born in Chesterfield, a son Frederick, 4, born in Chesterfield and a son Leon (in fact Lionel) 6 months, born in Scarborough. Gertrude Oliver Charlwood was born on Oct 29th 1873 and hers is the only
Chesterfield baptism located so far for the Olivers and Charlwoods. She was entered in the local Primitive Methodist Baptism Register, baptised on Nov. 2nd 1873. Gertrude's father had the occupation of Professional Cricketer and the family were living in Cobden Road, Chesterfield. This was a newly developing area of the town, with spacious villas and gardens, indicating Henry must have been earning a reasonable income.
The births of his children help to pin down Henry's time in Chesterfield from at least 1873 to 1879, perhaps 1880. It is possible they settled there straight after their marriage but the first evidence is from the summer of 1873 when Henry played one match for Chesterfield C.C. (he is listed in the club averages in T.P. Wood's Almanac). In 1874 he did not play, but he had a good season in 1875, playing in 5 matches, scoring 201 runs at an average of 40.2. No matches were played for Chesterfield in 1876 and there are no averages in the 1877 and 1878 Almanacs. However a perusal of a sample of Derbyshire Times cricket reports reveals he was making occasional appearances during the latter two seasons. On July 2nd 1877 he top-scored for Chesterfield against Willow Meadow, Nottingham, with 57 out of 131 as the his club won by an innings. On July 8th 1878 he again top-scored with 37 out of 144 as Chesterfield easily defeated Rotherham. In 1879, his last season, Charlwood played in 3 matches, averaging 20.2 runs.
These local matches had, of course, to fit in with a grinding schedule of first class fixtures and matches with the United South. In both 1874 and 1875, for example, he played in 16 first class matches of 2 or 3 days, including 8 for Sussex each season, and a goodly number of United South games, for which team he was a regular player. A cricket professional had to cram in as many matches as possible, even though the season was longer than at present, from the beginning of April until the end of September, with football occupying the other six months. A lot of travel was of course involved in this schedule, which ate into the paydays. Playing regularly in London and Hove whilst based in Chesterfield cannot have been easy. It is most likely that Henry received a small remuneration for his games with Chesterfield, perhaps in the form of generous expenses. The club, based at the Recreation Ground, Saltergate, also had a number of Derbyshire players regularly turning out for them at this period, such as fast bowler Joe Davidson and all-rounder William Cropper. In May 1873 a new cricket pitch was opened on the Factory Ground at Spital, and Charlwood top-scored for an invitation XI in the inaugural match.
The winter was often a bleak time for the Victorian cricket professionals, many forced to do manual work. It is not yet known what Henry Charlwood did in his Chesterfield winters for gainful employment, other than the winter of 1876-77, when he was a member of James Lillywhite's England team which journeyed to Australia. A letter in the Derbyshire Times in February 1877, from Mr. Daniel Marriott, of Newcastle, New South Wales, reads:
'I went to see your townsman, Mr. Charlwood, and I took two copies of the Derbyshire Times and he was very pleased to see them.'
This could well be the Daniel Marriott who in the 1861 census was an 'Iron Miner' living on Lordsmill Street, Chesterfield, with his wife Sarah. Newcastle was the rapidly developing coal and iron centre of Australia at this period.
We know a little of Henry's out of season recreation, for example in February 1876 Henry Charlwood was the home umpire for Spital F.C.'s first ever match against Sheffield Wednesday, on a waterlogged Factory Ground behind Mason's tobacco mill, a match won 2-1 by Wednesday. As the umpires were mentioned only sporadically in match reports it is very likely that Henry performed this duty on other occasions (not until 1891 did an on-pitch referee replace the two umpires). In January 1879 he played in a cricket match on ice, on Mr. Irving's pond at Brampton. Although Henry top-scored for Chesterfield C.C. the locals were easily defeated by Sheffield Skating Club, suggesting skill on skates outweighed prowess with bat and ball.
We can suggest that the Charlwood family left Chesterfield in 1879 or early 1880, to live in Scarborough. One website states that he kept the Bell Inn; that must have been after the 1881 census when the family were living at number 1, Sandside. Henry Charlwood, 'the Hope of Sussex', still continued to play for his native county, one of the weaker county teams of the period, until 1882. Three other Charlwoods have played for Sussex, but only one was related, elder brother Charles playing just 3 matches for them. Henry Charlwood died on June 6th 1888 in Scarborough, aged 41. His widow, Chesterfield born Ann, remarried in the town in 1890 to James Hamer, a Welshman from Montgomery. In 1891 he was enumerated as a 'Hotel Keeper' at Blands Cliff, with Ann, his three stepchildren, a waitress and a 'boots'. In 1901 the household was on Manor Road, Scarborough, James now a brewer's clerk, Fred a stationer's assistant and Lionel a draper's assistant.
Despite living in Derbyshire for at least eight years Henry Charlwood remained a Sussex player, although it was a time even then when players could and did change county. In five matches against Derbyshire, another relatively weak county side of the period, Henry Charlwood performed reasonably well, though he had almost certainly left for the Yorkshire coast by the time of the first match in 1880. Derbyshire C.C.C. was only formed in 1870 and it took time to develop a full fixture list. In contrast Sussex first played as a team in 1815, their first matches against another counties were in 1825.
In 1880 Henry Charlwood top scored with 55 out of 140 in the only Sussex innings of a drawn match at Derby and he did likewise in the Sussex defeat in the return match at Hove, with 18 out of 45 and 67 out of 211. In 1881 he was run out for 0 in the first innings at Derby and he scored 22 (second highest score) in the second innings, another defeat for Sussex. In 1881 he scored 74 out of 300 in a victory at Hove and finally in June 1882 he was on the winning side at Hove when Derbyshire lost by 3 runs, having forced Sussex to follow on. Henry contributed 23 in the first innings, returning after being retired hurt, and 14 in the second, not many runs in total but valuable in context. This was his penultimate first class match, as he retired after a poor game at Dewsbury when he scored only 1 and 3 for Sussex in an innings defeat by Yorkshire. Perhaps a combination of age and travel was affecting his form and enthusiasm.
The link of Henry Charlwood with Chesterfield has thus proved to be due to romance, as I suspected. If anyone finds any more information about Ann Oliver and their time in Chesterfield, I would be very happy to update my findings.
FURTHER READING
"W.G. Grace and the United South XI in Derbyshire." Roger Hartley. Chesterfield and District Local History Society Paper No. 27, March 2001.
"T.P. Wood's Almanac." Editions 1874 to 1880.
Derbyshire Times. Contemporary sporting reports. Chesterfield Library Local Studies Section
Copyright: R.D. Hartley, Chesterfield and District Historical Society, January 2007.